Each summer, the staff at Spirit Cultural Exchange hit the road to meet our Work and Travel participants in person and see the program in action. It is wonderful to be able to make real connections with the participants we sponsor. Aside from site visits, we also enjoy the opportunity to plan unique cultural activities to give participants a chance to learn more about US culture or get to know their representatives in a more casual setting. These activities and visits are often highlights of the participants' overall program.
This summer, we kicked off our Work and Travel tour with our annual Wisconsin Dells/Madison trip. During this visit, Spirit coordinates a small bus to drive some of our Wisconsin Dells participants to Madison for the day. We start with a tour of the Wisconsin State Capitol and then on to the University of Wisconsin-Madison for another organized tour followed by a free lunch. We have been doing this activity since 2013, and it is always a hit!
Madison Tour Day
Spirit representatives Chelsea and Katie hosted this activity last week and had a great time getting to know participants and visiting the unique city of Madison. There were 12 participants total, representing Colombia, the Dominican Republic, and Turkey.
Participants enjoyed taking dozens of photos inside the Capitol and outside on the observation deck. The tour guide explained the symbolism of the art and décor of each room. One participant was curious about the letters LEX ("law" in Latin) above the door of the Wisconsin Supreme Court room, and they even got to sit in the seats in one of the hearing rooms!
The second tour at the University of Wisconsin-Madison was most participants' favorite. It was a student-led walking tour that covered some of the campus' many points of interest. Participants were impressed at how large and open the university is, as well as how many unique features it has (like napping pods!). One of our participants even expressed interest in applying to the university to get her master's degree someday.
After the tour, participants received meal cards for lunch and enjoyed picking from Memorial Union's many eateries. Even though it was a warm, sunny day, everyone wanted to eat outside on the beautiful terrace overlooking the lake.
Host Employer Site Visits
Aside from the Madison tours, Chelsea and Katie enjoyed meeting our participants at some of our Host Employers in the Wisconsin Dells area. It was rewarding to get a chance to talk to participants about their program and see them in action. One participant was even their hostess at a restaurant!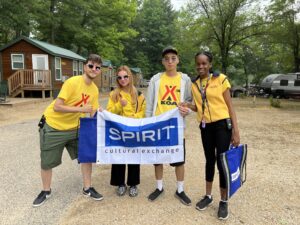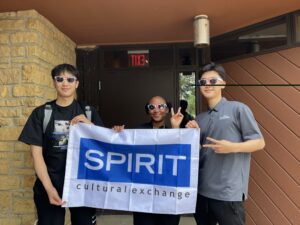 Wisconsin Dells Community Orientation
Chelsea and Katie also assisted representatives from Alliance Abroad Group and Intrax in hosting a safety orientation open to all Wisconsin Dells participants. The orientation took place at the International Residence Hall, which is home to participants from all over the world who are spending their summer in the Dells. The presentation covered important topics like bike safety, extreme weather, and culture shock. The information was specifically tailored to participants in the Dells based on past experiences and proved to be very engaging and relevant. Participants who attended received bike lights, drawstring bags, and Walmart gift cards.
It was a wonderful way to start our summer travel season, and we look forward to sharing more about our trips on the Spirit blog!