Presenting BridgeUSA: Connecting Global Leaders, Creating Lasting Impact
From global exposure and mastering a new language, to building self-confidence and preparing for university life, the benefits of exchange programs are invaluable to those who participate. And the advantages international exchange extends to hosts as well—increasing mutual understanding, new friendships, and access to global educational opportunities.
The world has changed in unprecedented ways this year, but the need for cultural and professional exchange has not. In a seemingly isolated world, these international exchanges are more important now than ever.
New Branding for the Exchange Visitor Program
We are excited to share that the Bureau of Educational and Cultural Affairs (ECA) at the U.S. Department of State has launched BridgeUSA as the new brand identity for the Exchange Visitor Program. As a way to reimagine the private sector component of the Exchange Visitor Program, the new branding will more effectively communicate the Exchange Visitor Program's mission, values, and global impact.
Launched on October 27th, this new brand evokes the Program's roots, calling to mind its post-WWII history and highlighting its crucial mission in today's world. The BridgeUSA tagline is "Connecting global leaders, creating lasting impact," and its logo is rich with meaning.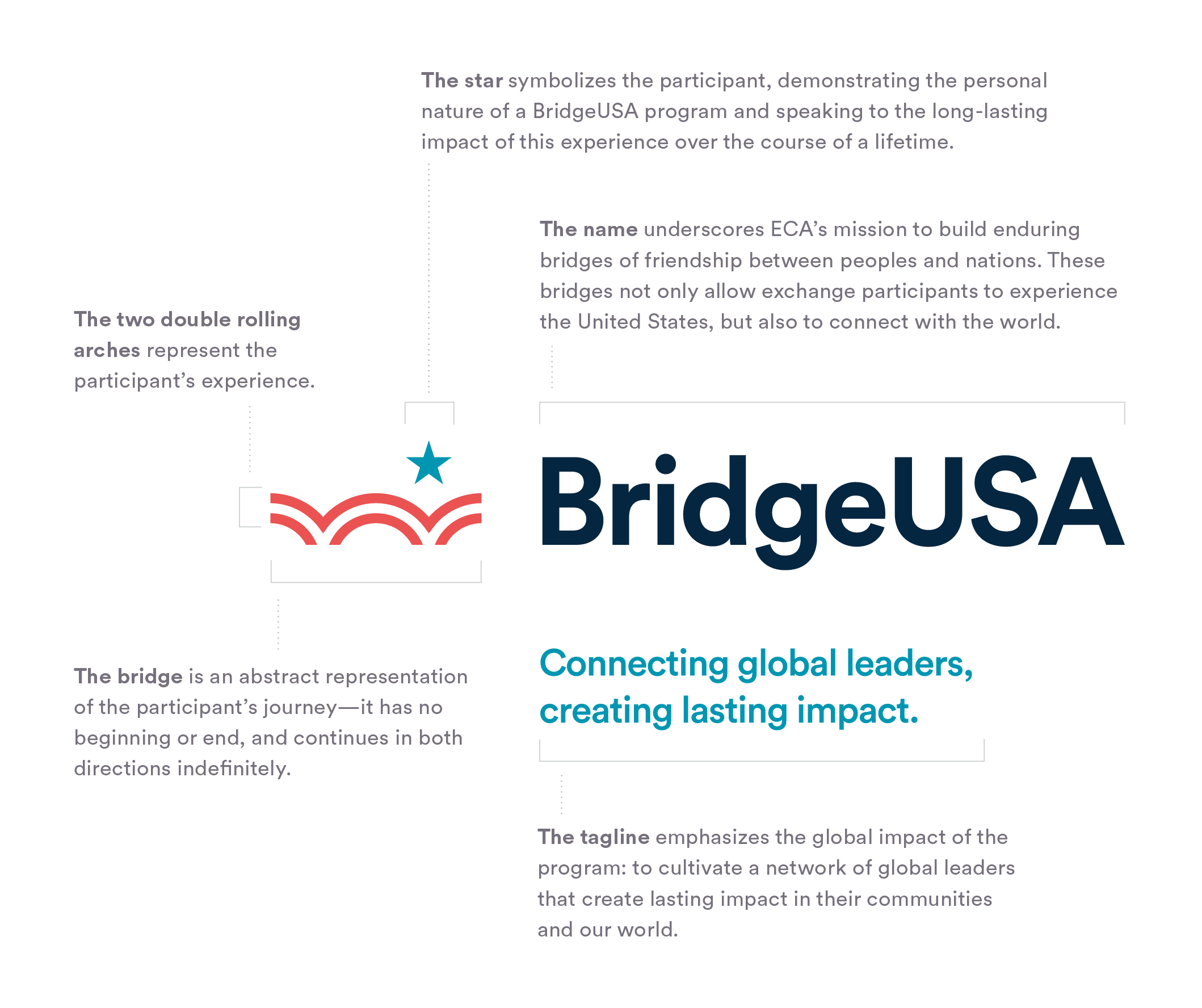 For participants, BridgeUSA programs will equip them with the knowledge, tools, and networks needed to thrive as future leaders and to create lasting impact in their communities. Their experience will truly serve as a bridge.
Together, Spirit Cultural Exchange and BridgeUSA will work toward this shared mission.
What Are BridgeUSA Programs?
Established in 1961, the Exchange Visitor Program served as a valuable diplomatic tool of U.S. foreign policy—increasing mutual understanding between Americans and people of other countries. Now known as BridgeUSA, these 13 unique cultural exchange programs further this mission by helping participants hone their existing skills, develop new skills, and unlock new personal and professional opportunities.
Spirit Cultural Exchange is designated by the United States Department of State as a BridgeUSA Program Sponsor for the Summer Work Travel, Intern, Trainee, and Teacher Programs. Since 2002, Spirit participants have immersed themselves in American culture while gaining professional experience or training in their fields of expertise. Spirit's mission "to encourage young people from a variety of cultures and backgrounds to take advantage of the extraordinary benefits of international exchange" is realized in the many participants who gain a better understanding of themselves and the world around them.
Our shared mission is to build bridges of friendship between peoples and nations—strengthening ties and cultivating the next generation of global leaders.
To learn more about the new BridgeUSA brand identity, click here: https://www.state.gov/introducing-bridgeusa-a-new-brand-identity-for-the-exchange-visitor-program/