For a second consecutive year, Spirit Cultural Exchange staff traveled to Mexico City in April to host internship interviews for engineering students. Along with staff from thyssenkrupp North America Inc and support from the National Autonomous University of Mexico, over 30 candidates listened to alumni presentations from the previous year's cohort, learned about available internships for the current year, and discussed the J-1 Internship Program.
During their presentation, Spirit Engineering Program alumni spoke about how they developed new professional skills during their internship in the U.S. while also becoming part of their community. Alumni spoke about the different holidays they celebrated, female-led engineering groups they joined, new friends they made, and amazing travel they enjoyed. Professionally, the alumni showcased some of the amazing machines and technology they were able to experience and about how they had gained advanced training during their time in the U.S.
thyssenkrupp's representative Paul Babin spoke about the many opportunities offered by the company around the world. Paul spoke about the organization's international focus, including numerous facilities throughout Mexico. He also provided information about the internship content, including the opportunity to train alongside experienced engineers and with exciting new technologies.
"It was pretty challenging because I never worked with robots in my whole life," said alumna Matzayani Garcilazo. "I didn't know how it worked, what I had to do, how I can interpret the move of a robot, what would happen if I changed a little sentence in the whole program, and how it would affect the rest of the program. But I think I enjoyed that challenge!"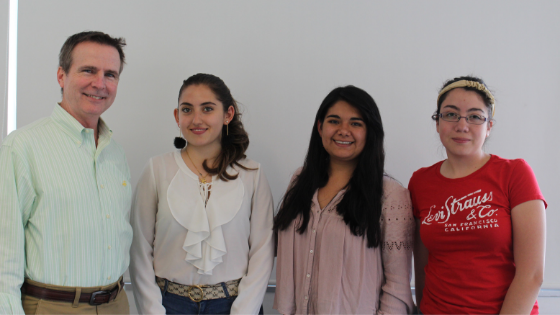 thyssenkrupp Representative with Spirit Alumni
After attending the presentations, candidates had the opportunity to speak with Spirit staff and a representative from thyssenkrupp North America Inc regarding available internships for the current year. Candidates learned about J-1 Internship program requirements, the visa application process, the components of the available positions, and were able to ask questions.
Naomi Aguirre, a former participant, said, "I think that all the knowledge that I have now from this experience will be very helpful because it's not like a normal job. I needed to learn other skills like speaking English or learn some new software. Here I only knew how to use one software for drawing, and there I needed to learn a new software. Now I think that I know more things!"
"It was so cool because I met people from other countries, with other cultures, with different customs, and I had the opportunity to share also my Mexican customs," said Abigail Guerra, another alumna.
Spirit staff enjoyed the opportunity to see our alumni discussing their experience. It is always exciting for us to hear about what Interns learned and enjoyed during their time in the U.S.!
If you are interested in learning more about how your organization can host international interns or would like more information about Spirit's programs, please contact intern@spiritexchange.com.
Check out more photos from the event below: