At Spirit, we believe in the power of cultural exchange as a tool to bring the people of the world closer together. For our program alumni, they often return to their home countries with a fresh perspective on American culture and a drive to continue their own personal diplomacy. One of our former Work and Travel participants, Fran from Croatia, shared with us his personal diplomatic experience at an "American Corner" in Croatia with American diplomat Lee Satterfield, U.S. Assistant Secretary of State for the Bureau of Educational and Cultural Affairs (ECA).
Fran wrote:
"I am Fran and I was at the American Corner meeting where we hosted Assistant Secretary of State for the Bureau of Educational and Cultural Affairs (ECA) Lee Satterfield. The primary topic of the visit was to see what activities and what programs American Corner is providing in Croatia, and to see how well American Corner is equipped. She also wanted to see how well all the American Corners in Croatia are coordinated. An example of a program was a one-minute film competition about "Croatian & American friendship." It ended at the same time when Lee Satterfield was visiting American corner in Zagreb, so we asked her to sign the award for the winner of the one-minute film competition. There was also Ms. Ira Beck, a high school teacher who often involves her students in the projects and programs of the American Embassy and American Corners, so she also briefly presented what this program means to her students.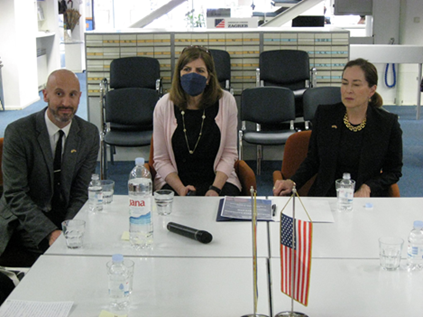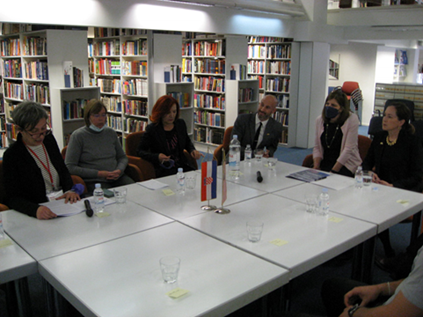 I liked the meeting because I am better prepared for future social meetings of this type. I think every young student should participate in things like that because you can learn how people from other countries communicate and your self-esteem grows. There was also a woman from the American Embassy who told me and my colleague that we can make a similar event about the Work & Travel program where we can show how it affected us and the positive side if there are any negative things. I liked this meeting a lot and I would love to be part of a meeting where I can show to students and other generations every aspect of Croatian & American culture and how much it means for students to be part of programs like Work & Travel program."
Thank you to Fran for sharing his experience, to our international partner Viking Bulgaria, and to Assistant Secretary Lee Satterfield for taking the time to hear from cultural exchange alumni!
While in the USA, Work and Travel participants practice their English skills and learn about American customs while living and working side by side with Americans and other J-1 Work and Travel participants from around the world. Participants work in a variety of seasonal positions at U.S. Host Employers nationwide while sharing their ideas and perspectives. Many are inspired by this experience to continue exploring the cultural crossroads between the USA and their home countries. You can learn more about the Work and Travel Program here.
If you are a former Work and Travel participant with a cultural exchange story to share, please consider entering our "Spirit Alumni: Where Are They Now?" blog contest. Learn more about the contest.