Since we have Friday through Sunday off, we have a lot of time to explore the Island Isabela. Everyone we spoke with about the island said it was the best island because it is so tranquil, and it is the best island for seeing all of the animals. They were not joking! We saw EVERYTHING here! I will break down our weekend by the different activities that we did.
Flamingo Lagoon and Tortoise Breeding Center
This is a free walk you can do just outside of town. The walk leads you through a lagoon where flamingos live. We were able to see four of them. After the lagoon you end up at the tortoise breeding center where they breed the local tortoise to reintroduce them to their natural habitat. The older tortoises there were humongous!
Los Tintoreras
This is a kayak and snorkeling trip in the main harbor. Within the first five minutes of kayaking, we were approached by a sea lion that wanted to play. Our guide said that he could tell the sea lion wanted to play because he was holding a sea cucumber. The sea lions don't eat sea cucumbers; they just hold them in their mouths to show people to get our attention. After that we saw a little sea turtle swimming, and then we stopped paddling next to a big rock. The rock was actually a Galapagos Penguin nesting ground, so we saw four Galapagos Penguins, and we were lucky – there was also a blue footed booby!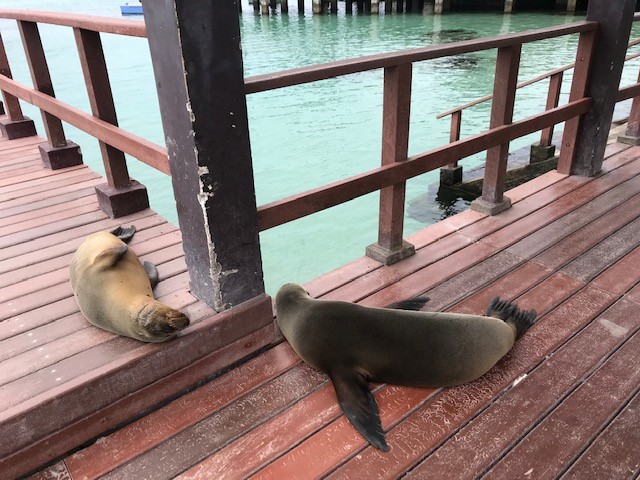 When we got to the snorkel site, we were able to see an octopus, many sharks, and a sting ray. Our guide kept diving under a rock into a cave where a lot of sharks were resting, but I had NO desire to dive into that cave.
El Muro de lágrimas
This is a bike ride or hike outside of town. El Muro de Lágrimas means wall of tears. This wall was made of lava rock and built by prisoners when the Galapagos was a penal colony. There was no point in constructing this wall other than to punish the prisoners with back breaking labor in the hot sun. The wall was huge – a lot bigger than I expected. There is also a hiking trail up the side of it to a hill where you can see for miles. You get a great view of the island and some of the other small islands nearby.
La Fiesta de Culturales
Our host mom invited us to the local festival on Saturday night. We had no idea what to expect, but it turned out to be a locals-only event; there were only four other tourists there, and I felt very humbled to be invited. We rode in a taxi for 20-30 minutes outside of town. On my map the road was supposed to end, but we kept going until we came upon a park that had a playground, stage, horse ring and stands, volleyball court, soccer field and stands, and BBQ pits with picnic tables. Lights were going, music was blaring, and all of the abuelas were making food. We started by trying the food at all of the stands. It was different variations of chicken with rice and puff pastry with dulce de leche. While we were eating, we could here different local children singing songs over the speaker system.
After that we went to watch the children do a traditional dance. Then they had local men try to ride bucking horses. They timed them for a competition. I don't think anyone made it past 2 seconds. Next was a comedian performance. We learned from our host family that the whole town comes to events like this and the party doesn't end until 4am! We did not stay that long.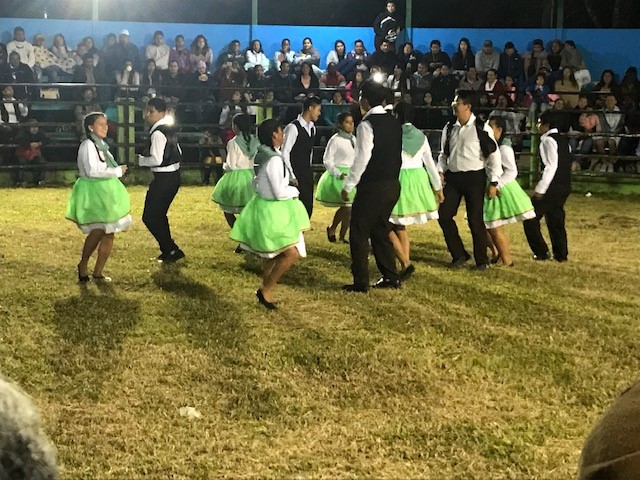 It was really fun to see the town let their hair down and have a fun night out without having to cater to tourists. We watched an abuela dance for hours, switching out her partners when they got tired!
Sierra Negra
This is the tour to see the volcano. The Galápagos Islands were formed by volcanoes hundreds of thousands of years ago. Isabela is one of the younger islands, so it still has four active volcanoes. The last eruption was last year! Our guide showed us the lava that ran into the ocean. One of the tour boats was able to get some really good photos. We didn't see any lava, but we did get to see the 6-mile-wide caldera. The volcano mouth is the second largest in the world and first largest still active volcano mouth. It was very pretty to see the green vegetation drop off into jet black lava rock; then on the other side of the volcano, the clouds were pouring over the edge of the mouth so it looked like a waterfall. During the hike to and from the volcano, we walked through groves of guava trees so the whole hike smelled like guava! So sweet!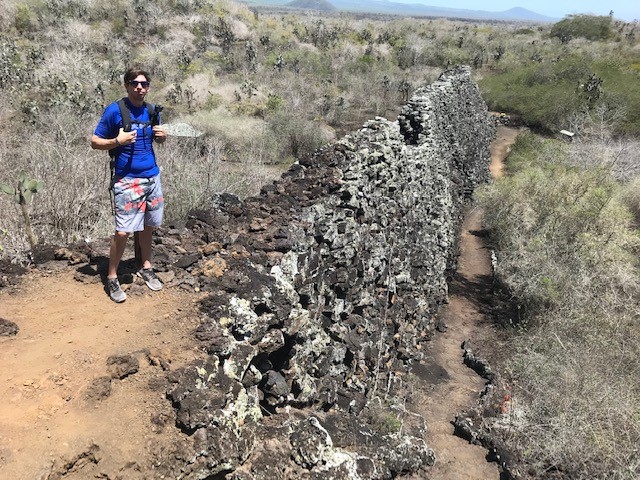 Los Túnneles
This trip was the tour of a lifetime. It was fantastic. We took a boat to lava tunnels. The tunnels are in the water and broken, so it's more like little islands and bridges of lava rock. Our captain steered the boat around the little islands like an expert. When we docked, we were able to hike around the islands and bridges. We saw three sea turtles swimming, and we saw… drum roll please!… two blue footed boobies nesting with eggs, two males fighting for territory, and a dad feeding his baby. It. Was. Incredible! The day before I was so psyched just to see one in the distance and today, we saw so many, and they were all doing different things!
When we were snorkeling, we got within feet of multiple sea turtles, sharks, golden sting rays, and sea horses! I was most excited to see the sea horses. They were so much bigger than I expected. They were the length of my hand.
Our guide also found a cave with sharks sleeping. He held us down under water so we could see them, and I was face to face with SIX sleeping sharks. It was incredible. If you ever end up in the Galapagos, do the Túnneles tour on Isabel Island. It was spectacular.
Tomorrow we start volunteering. I'm so excited!