We recently reached out to Eray Z., a J-1 Work and Travel in the USA participant from Turkey, who participated in Spirit's program last summer. Due to the pandemic, Eray transitioned to a new Host Employer in August. We interviewed Eray about living in the U.S., transferring to a new Host Employer, and meeting new American friends during the pandemic. Despite the challenges, his opportunity to work and travel in the USA this past year was an opportunity he will never forget.
You can read our interview with Eray below.
Describe your experience of living in the US during the COVID-19 pandemic.
I experienced the U.S. well despite COVID-19. I met new friends and improved my English speaking skills. I worked in two different states: Wisconsin and Tennessee. On the other hand, I have also had stressful days because of the pandemic. When I worked in Wisconsin, the workplace was shut down because of outbreak of COVID-19. After that, we had to move to Tennessee. We had these little difficulties. I collected so good memories despite COVID. I sometimes miss those days.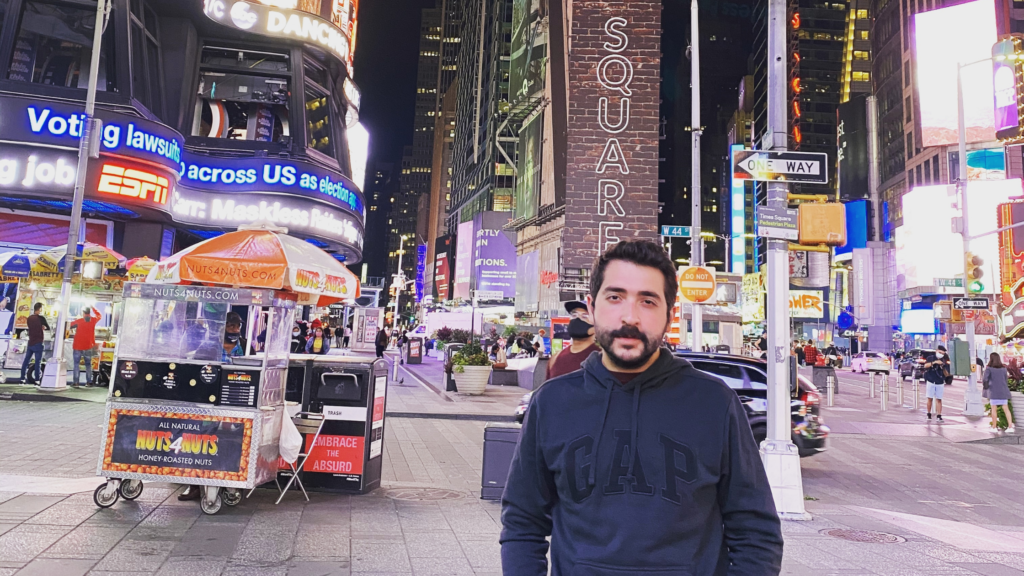 What was the adjustment to your new Host Employer like?
I worked as a cook in a resort. They welcomed me so kindly. I did not face any challenges or problem. I met new friends quickly. My job also was so enjoyable.
Did you feel supported by your Host Employer? What safety measures did your Host Employer take for resort staff and guests?
I really felt myself belonging there. They supported us about everything. Also, safety measures were high level. There were hand sanitation stations. Managers and supervisors were so conscious. Also, the use of mask was mandatory.
What were your interactions with Americans like during the pandemic?
We had to take measures such as social distancing and use of mask. Despite these, I met new American friends. We hung out with some measures.
Tell us about your placement in the Wisconsin Dells: Did you enjoy the placement? Living in the Wisconsin Dells?
I have such memorable memories. I loved my job. I worked as a groundskeeper. My co-workers and manager were so funny and kind. They were all American. They taught their culture and helped me about improving my language. I miss them. Also, Wisconsin Dells is such a small and cute city. It has a lot of J-1 students in summer.
Tell us about your placement in Tennessee: Did you enjoy your placement? 
I worked as a cook in a resort. I made pizza and hamburgers for customers. It was so enjoyable job for me. I was really happy. Also, my communication with co-workers and managers was so good. They welcomed me very well. Tennessee has a lot of natural park and touristic areas. I liked Tennessee a lot. I hope that I will travel to Tennessee someday again.
What kinds of cultural activities were you able to participate in around Tennessee?
In Tennessee, I attended an employee party, hung out with my friends and toured the Sevierville city. I sometimes did chat with my housing neighbors after work. These activities were useful and fun for me. I improved my language and gained new experiences.
How did you like living in a tourist area?
I think that living in a tourist area was so good and enjoyable. The people from different states and countries come to touristic areas. It enabled me to meet people from different cultures. Also, these areas are alive places and rich with culture.
Do you feel Spirit supported you through the COVID-19 pandemic? What type of support did you receive?
I really felt support of Spirit when I was in the USA. I always was communicating with Spirit. I had some difficulties because of COVID-19. Spirit did not leave me alone. They always supported me. When I faced any difficulties, they found a solution. They did do these professionally. Their attitudes were so supportive and friendly.
What is some advice you can give to other participants who are coming to work and travel in the USA this year?
I think students who have the opportunity should experience the USA. They shouldn't hesitate when meeting new people. They should seize every opportunity. Sometimes, they may face some difficulties. They should calm down. When they face some problems, they should contact their sponsors.